This improv course will focus on creating strong scenes through improvisation. A great scene can come in many forms. For example, it can paint a vivid picture, progress a narrative in a meaningful way, or simply make your audience laugh. (Or all of the above!) You'll gain a solid understanding of how this is possible through this course.
Some previous improv experience is recommended for this course. Either you've done a beginner's improv course before (with anyone, not just us) or you've been casually doing improv for a little while (e.g. the Jam).
What you'll be doing in this Improv Course
There will be a recap of the basics of "Who, What, Where?" in scenework. But we'll also look at the different methods for progressing a scene, like diving deeper into relationships and making use of your environment. You'll take part in exercises that will help you flesh out scenes and negotiate your way out of 'getting stuck'. Overall, we'll be working towards telling great stories while retaining your sense of freedom and spontaneity.
The aim of the course is to make you more confident in making your way through a scene by making purposeful choices and using the tools available to you.
Focus Courses
Focus courses are short courses that focus on a single aspect of the craft. They accept a limited number of students so that everyone can get plenty of practice time. These courses give you the opportunity to practice improvisation in great depth with guidance from an experienced teacher.
These courses will run frequently throughout the year, will usually be repeated, and can be taken during, between and after the 8-week courses. Regularly attend focus courses to expand and deepen your improvisational skills long term.
Teacher: Maggie Nolan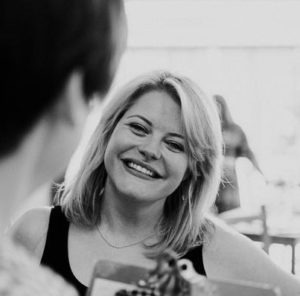 Maggie has 10 years of Improv experience, performing regularly with ComedySportz Manchester, Murder Inc. Improv and Mischief Managed Chester.
She has trained with teachers all over the world and performed at International Improv Festivals.
When and Where
Date & Time
Thu 9th Feb, 20236:00PM to 9:00PMDuration: 4 weeks, Thursdays
Covid Safety
We're making sure to work with venues with large rooms, so we'll have plenty of room
Windows will be kept open for ventilation (weather permitting)
"Highly enjoyable, engaging, enlightening and above all EXCELLENT!"
Secure
This website uses secure technology to ensure that your data is always safe.