A Saturday and Sunday playing around with more physical improv. This is an excellent introduction to physical theatre and an important addition to your performing and comedy skillset.
You don't need any experience in performing or comedy to join this workshop. All skill levels are welcome.
What you'll be doing in this class
This class is all about movement, and communicating with your body what you might normally communicate with your words. You'll be introduced to concepts and methods that are crucial to good movement and be given the time to play and put it into practice throughout the weekend.
Full Masks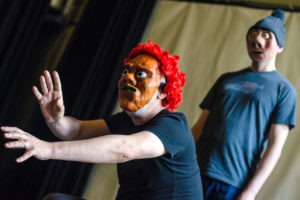 The full mask frees the actor from having to speak any words. It can seem like a limitation but in reality it often leads to improved nonverbal communication. You will discover how you are able to communicate emotions more clearly by minimising gestures, even when the emotion contradicts the fixed expression of the mask.
Trance Masks
The trance mask covers only the top half of the face, leaving the mouth free. Sound is central to working with these masks and there are no given characters. Performers are guided through the process to help them discover a character instead. This technique aims to help performers discover a way of performing that relies more on instinct and was developed by Keith Johnstone at the Royal Court Theatre in London.
The process can sometimes be likened to the development of a child as they discover how to speak, and relate to the world and different experiences.
What you'll get out of the class
A fun and playful introduction to physical theatre. You'll also leave with a better undertanding of how to communicate using nonverbal methods, which is extremely valuable in your performances and a crucial addition to your skillset.
Sign up below
Teacher: Simone Tani
Simone Tani graduated at Ecole Philippe Gaulier in Paris where he studied Theatre, Clown and Bouffon. Recently he founded the bouffon company "Teatro Pomodoro" and performed at Edinburgh Fringe Festival 2014.
Earlier, he studied improvisation at the school Verba Volant in Rome, and with Keith Johnstone, Shawn Kinley and Dennis Cahill at Loose Moose theater in Calgary, clown and physical comedy at Second City Theater in Chicago and in London with Mark Bell and Peta Lily (Dark clown), trance and full masks with Steve Jarand (Calgary), commedia dell'arte with Carlo Boso and Onda D'Urto Teatro in Rome, mask making and wood carving in with Anom Ida Bagus in Bali.
He's one of the founding members of the improvisation company i Bugiardini in Rome and performs and teaches improvisation, trance masks and drama in Italy, UK, France, Finland, Japan, Taiwan, Hong Kong, Singapore, New Zealand and Australia. His workshops have been selected also by Finland International Improvisation Festival, New Zealand Impro Festival, Melbourn Improv Festival and Taiwan National University of Arts.
When and Where
Date & Time
Sat 27th Jul, 201911:00AM to 4:00PMDuration: Saturday and Sunday
Payment Terms
We can be flexible with payment and so if you'd rather not pay in full now, you can pay a deposit to lock in your place and pay the rest later. If you need further flexbility we can accommodate, just give us a shout.
"Highly enjoyable, engaging, enlightening and above all EXCELLENT!"
100% Secure
This website uses secure technology to ensure that your data is always safe.