This course is all about exercises that jazz you up and free your mind, and games that push and challenge you to be your funniest self. By the end you'll always be the funniest person in the room!
Little or no experience in improv or acting? This is the course for you.
Waiting for payday? You can pay £40 now and pay the rest anytime leading up to the course.
What you'll be doing in the Sessions
Other than laughing? Mostly hilarious drama exercises that will learn you some important improvisation skills which you can use both on and off the stage.
Many of the useful skills covered include:
Good observation and listening skills
How to be more in the moment and spontaneous
Stagecraft and stage presence
Character creation on the fly
An understanding of what makes a scene funny
What you'll get out of the course
A fun and playful time. But more tangibly, you will also gain a basic understanding of scene and character work for the comedy stage, and you will have played a variety of improv games which you can take with you anywhere (quite a few double as, or are derived from parlour games). You may even find that ideas come more readily to you in many situations.
Teacher: Maggie Nolan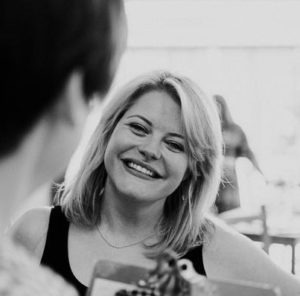 Maggie has 10 years of Improv experience, performing regularly with ComedySportz Manchester, Murder Inc. Improv and Mischief Managed Chester.
She has trained with teachers all over the world and performed at International Improv Festivals.
When and Where
Date & Time
Mon 9th Jan, 20236:00PM to 9:00PMDuration: 8 weeks, Mondays
Frequently Asked Questions
I've never done acting or improvisation before. Can I join this course?
The L1 (Level 1) improv course is designed for those who have no experience of the stage. It's best you sign up for that one if you have no improv or acting experience.
The L1 course also works really well for those who have performing experience but none of it in improv comedy.
I already have improv or acting experience. Which course should I take?
Probably not the Level 1 course. It would be best to speak to us and we'll have a quick chat about your experience. There's a good chance we'll recommend you take a higher level course.
I can't make every session. Should I still sign up?
You should sign up if you think you'll be able to make at least 6 of the 8 sessions. Any fewer than that and you may find yourself falling behind.
Do I have to be funny and/or a fast thinker?
Nope. But that's kind of the point! It's a course that teaches you about some of the mechanics of comedy and thinking on your feet. If you want to be funny or be able to think a little quicker on your feet, you should definitely sign up to a course.
Will I have to perform on stage if I take this course?
There's no obligation to take to the stage at the end of a course; it's entirely optional. We do encourage, though, that you watch some shows to see how it all works (and also because they're hilarious). You can watch most of ImproQuo's live comedy shows for free if you're signed up to a course.
Covid Safety
We're making sure to work with venues with large rooms, so we'll have plenty of room
Windows will be kept open for ventilation (weather permitting)
Payment Terms
We can be flexible with payment and so if you'd rather not pay in full now, you can pay a deposit to lock in your place and pay the rest later. Payment must be completed before or at the first session of the course.
"Highly enjoyable, engaging, enlightening and above all EXCELLENT!"
Secure
This website uses secure technology to ensure that your data is always safe.